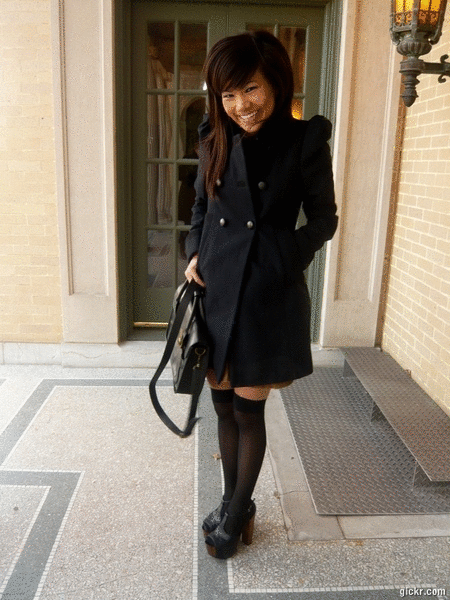 While looking for a place to do this photo shoot, we stumbled upon a historical mansion designed with the Italian Renaissance in mind. Built in 1919, this mansion features many of the gold, marble, stained glass, and intricate decor that we rarely see in modern structures anymore. It left us in awe and reminiscing about the old days when grandeur took much more time and effort to complete. Now this mansion belongs to the historical register and garden center of our city, and houses horticultural meetings and weddings.
It was very frigid (but the dust bowl did decide to subside and give us grace) so even though being dolled up in the adorable fox print knit and corduroy overalls was fun, I could not wait to put my new winter coat on. I love the puffed, raised shoulders and the blue and black swatch banding on the coat. Such details emulate an aura of classic fashionableness. And who doesn't love statement shoes? I had been eyeballing these Dany platform pumps for quite awhile, and lo behold, like an early Christmas present, they went on sale. Click. Add to cart.
It is going to snow the next couple of days, so I am pretty excited. There is nothing naturally prettier than winter performing her waltz; it is like fluttering, white confetti for the new year.